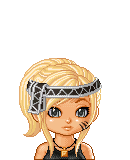 Sierria Nowalk is the daughter of two unnamed people and is the girl tribute from district Eight.
Pronounced Si-era-ria
Main Info
Edit
Hair Color: Blond, she usually keeps her hair up in a pony tail.
Eye Color: Gray
District Symbol: A piece of gold on a chain, a necklace passed down through her family.
Main Weapon: Knifes or a spear.
Height: 5 feet 7 inches.
Age: Believed to be fifteen or sixteen.
Weight: 112 pounds
Agility skills: Wonderful
Food-Finding Skills: OK. Not too good, but OK.
Alliances: None.
Special Things: She knows hold to de-arm people easily.