Lucetia Bodicia

Full Name

Lucetia Bodicia

Nickname(s)

Tia

Age

14

District

3

Skills

Stealth and Guns

Hair Color

Light Brown

Eye Color

Purple

Height

5'3"

Birthday

April 15th

Evaluation Score

3
Appearance
Edit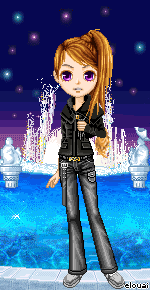 Lutecia has waist-length light brown hair which she usually ties up into a side ponytail, and violet eyes. She usually wears a black jacket, black jeans, and gray sneakers.
Personality
Edit
Lutecia has a very calm demeanor, rarely panicking when faced with a difficult situation. She often appears indifferent to the world around her, but she is actually very observant. When she sets her mind on something, she will do whatever is required to reach her goal, going as far as using others. Lutecia thinks of life as a game, and humans as mere pieces in the game of fate.
Stories She Appears In
Edit
Known Family
Edit
Teana Bodicia-Older Sister[Deceased]
Ad blocker interference detected!
Wikia is a free-to-use site that makes money from advertising. We have a modified experience for viewers using ad blockers

Wikia is not accessible if you've made further modifications. Remove the custom ad blocker rule(s) and the page will load as expected.